Pick Your Own at Shute Fruit and Produce
Bishopsteignton, Teignmouth, Devon
Open from mid July - end of October. Click this button for an update on what you can pick TODAY on our farm.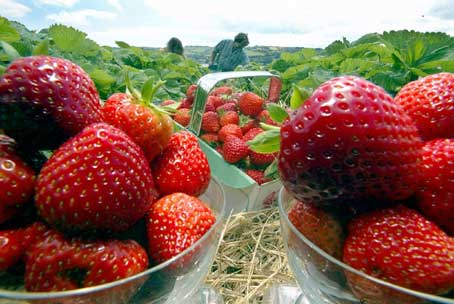 Lori's award winning jams, jellies and pickles are based on our own grown produce; it is like having our farm in a jar. We also utilise wild fruits from the farm's hedges as well as neighbours' produce. From her farmhouse kitchen Lori stirs up over twenty different delicious varieties of preserves using plenty of love, traditional recipes, family secrets and contemporary innovations.
We are proud of our unique preserves, including spiced blackberry vinegar. You'll find recipes for cooking with this and other produce under Recipes
We carefully choose our fruit and vegetable varieties for flavour - You can taste the difference. Because you pick it, you get freshness that almost squeaks. A healthy option for you and your family.
For a general schedule of crops you can expect to find at the farm see our seasonal availablity page
The farm stall sells limited quantities of ready picked produce including our very special potatoes. Did you know you can also pre-order your requirements through our Contact Us or Preserves pages. Please order at least the day before to give us time to pick it for you!
Shute Fruit and Produce is an established family farm run by us, Lori Reich and David Lamboll. The fertile red soil of the stunning Teign estuary, a Coastal Preservation Area, contributes to the superb flavour of our fruit and vegetables. It's our slice of heaven in Devon and we'd like to share it with you.
Bring the whole family--well behaved dogs too. Schools and community groups welcome for tours and activities with advance notice.
Of course, a scone is only as good as what you put on it.† Here in Devon that must be clotted cream and Shute Fruit jam.† Donít tell anyone but David prefers Blackcurrant jam to Loriís Strawberry jam, but you can choose what you like for your order.† To make the whole thing Devonly, the clotted cream is from Curworthy who make the best, most unctuous clotted cream around.† Order for Sundays or Wednesdays to be delivered to your door in Bishopsteignton between 3 and 4 pm only.† Orders by noon on the day at the latest.†
Check out Lori's diary page, our photo gallery or our newsletter to see what she has been up to recently.